ULTRAGENIQ
We created Conjay Ultrageniq Ltd to cater for both our existing customers within the Mining and Oil Exploration fields and also for our future clients in these and the Space sectors.
Thanks to many years working with Advanced Communications, Counter-Drone/Radar Systems, Thermal & Optical Imagery, Exo-Load Systems and other cutting-edge Technologies we are able to offer unique solutions to both current and predicted problems.
We can help transform your Mining Sites and Oil Exploration Ventures into robust facilities capable of addressing the myriad of overt and covert threats they face.
Security Metal Detector
We have a limited stock of ELPAM Model 303K Weapon Detectors. These were designed 20 years ago by Elpam Electronics of Israel. There were 2 models manufactured, the M302 Standard size and this the 303K or Kurtz hence Smaller size. They have 2 sensitivity settings and the presence of Metal is indicated by either a glowing light or audible sound.
View Security Metal Detector Page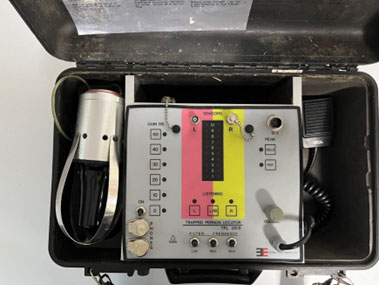 TPL-310 TRAPPED PERSON LOCATOR
The TPL-310B Trapped Person Locator was designed by Elpam Electronics to detect persons trapped under rubble. This could be as the result of an Earthquake, collapsed building or, military damage. It works via trigonometry which is achieved through the relative positions of the 3 Sensors, which are lowered into the suspected cavities. One of the Sensor units could be utilised as a 2 way communicator with the person who is trapped.
View Trapped Person Locator Page